How much knife do you really need?
Inspired by
THIS THREAD,
how much knife do you REALLY need when hiking/camping/BOBing?
I've heard repeatedly that you really need only one knife with maybe a 3 1/2- 4" blade, plus a survival saw or hatchet; the 'camping knife' w/ 5-6-7" blade becomes superfluous.
What say you?
Poll inbound.
Damn... my 'add poll' button disappeared...
aahhh, there it is.
my gerber LMF is my camp/hike knife
i can cut wood for a fire, skin a animal/fish has a sharpener in the sheath its a all around great survival knife
i also collect knives and i am really fond of spyderco knives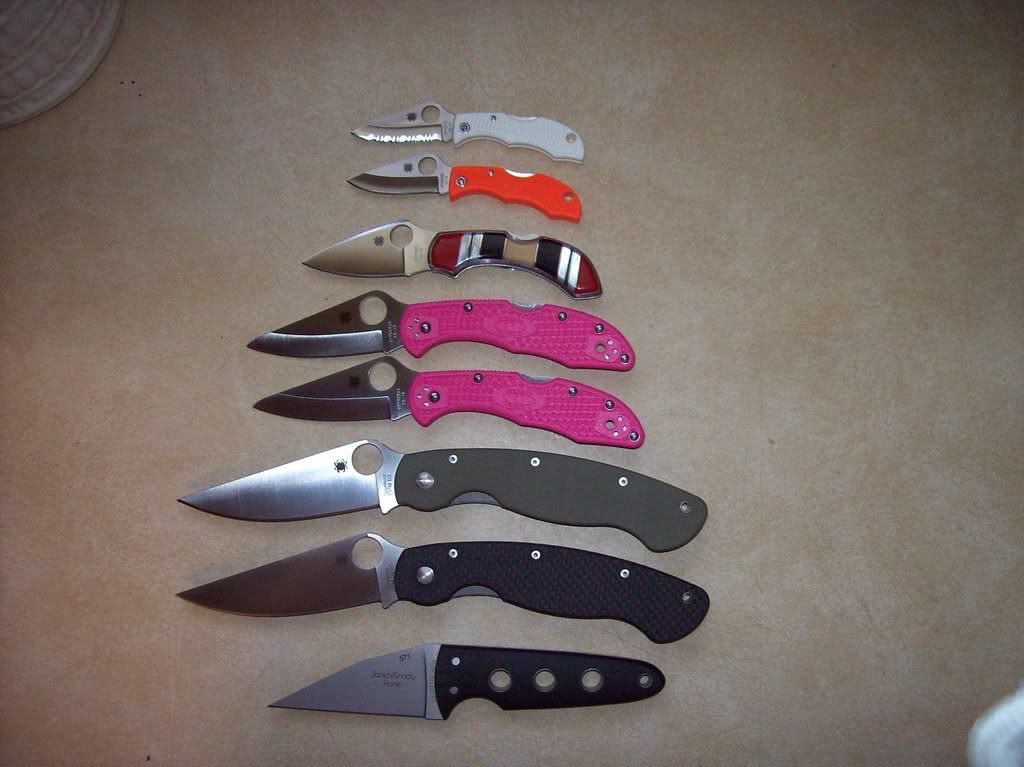 and my fav custom knife bought from Theuns himself while i was in Vegas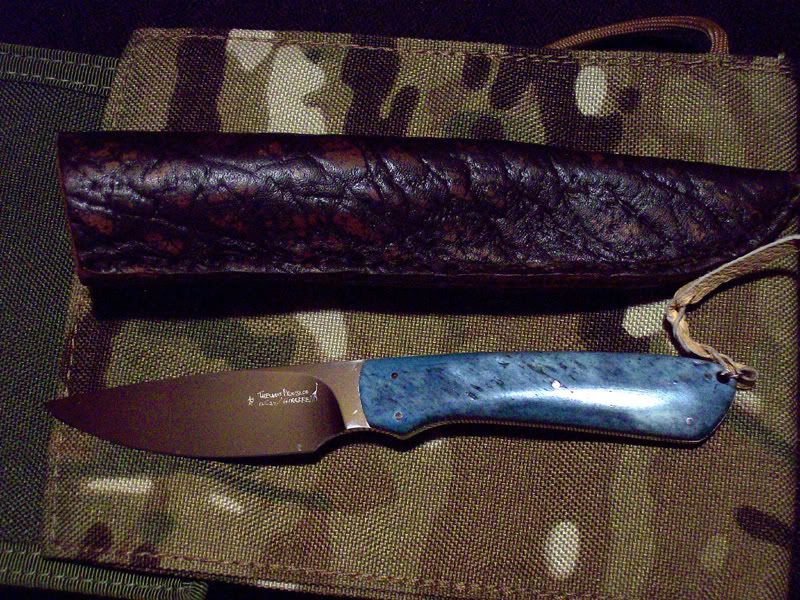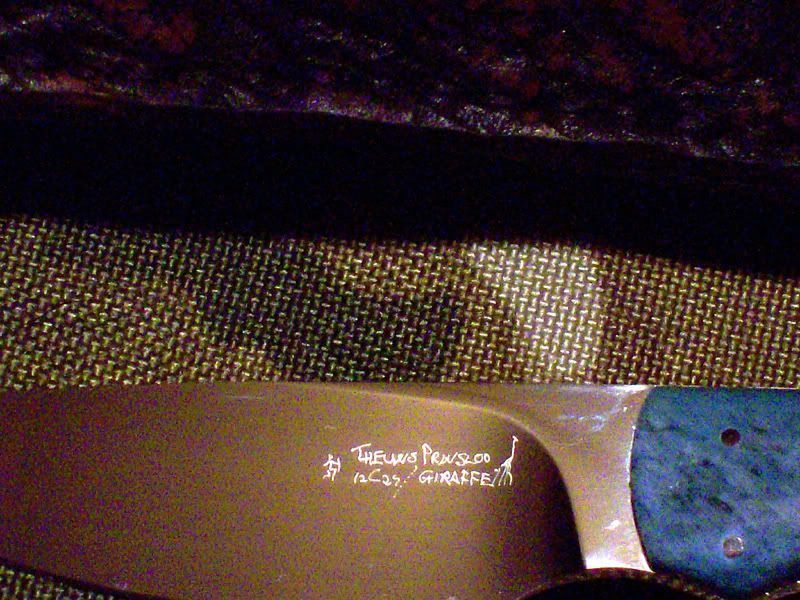 it's a tool box. How many people on this forum forget that? One knife can't do everything. You might not even need a hatched if you have a folding shovel with a sharpened edge....

what exactly are you looking to accomplish? While at work(telco tower tech, I work on the cell towers on mountain tops.) I've never needed anything over a 3" blade, although the cold steel recon 1 I carry is 4''. I also have two bags of tools with me though.


The gerber lmf will cut wood just fine
place the blade on what you want to cut and then hit the top of the blade with another piece of wood
90% of what you do in camp can be done with amulti tool or good pocket knife/folder.
camp knives
3-5 inch fixed blades. are good for chores, and field dressing.
larger knives- 5-8inch fixed blades are good for......add'd weight to your gear
well they are good for when you cant hump a saw or axe, and want a "one" tool kit. they arent good at being an axe, and arent good for fine work but they do it all.....
my kit is nomrally
multitool
folder
bk7- which doesnt get much use unless i leave the 1st two at home,....
I really think a decent mid-sized fixed blade is prudent insurance. I just can't comfortably carry the longer bladed knives (6+ inches) on my person, and while carrying a backpack or combat load-out that just proves the point. Try doing some scrambling around or getting into or out of vehicles and helo's with a drop-leg ~7" fixed blade…they snag, get hung up and restrict your movement. However, I can comfortably carry a ~5" fixed blade knife on my belt (with the right kind of sheath, I can carry under a pack belt)...that's about as big as I want it. The only advantage of that extra inch or so (instead of a 4" sized Mora-type fixed blade) is the increased chopping ability…not much, but pretty good for the size. Another aspect of having a mid-sized fixed blade that you can carry on the belt, is that as long as my pants are on, I'll have a fixed blade. Biggest reason for a small to mid-sized fixed blade is becomes evident when you have to start doing a lot of food-prep or skinning...I hate gumming up a folder's action with blood and guts.
For urban/daily carry, I usually go with a multi-tool and folder; if out backpacking and camping, I like the nostalgia of a SAK (I love the Outrider model). One last item that I've used more than I realize is a quality folding saw (Silky or Kershaw/Bahco)...nothing too big or heavy and it stays in the pack but comes in handy around camp. The saw on SAKs are pretty good for notching, but you won't be doing any major sawing with one.
I have a lot of bigger knives, but I really have to plan to use them if I carry them along. Weight can be a big factor if you're doing any serious backpacking, so I usually don't pack an axe except for the truck. If I really feel I need a bigger blade, I'll slip a 12" machete (Ontario or Tramontina) in the pack...not too heavy, but versatile if you really need a big blade. Plus, I witnessed locals in Ecuador that used a machete for just about everything and with such great finesse and precision it was scary.
Some people in colder climates make a good case for a quality pack axe or hatchet and I could see that...it really depends on your location and season.
So for me, a mandatory basic load consists of:
1) Quality folder (Benchmade, Spyderco, etc.)
2) SAK or multitool
3) ~4-5" fixed blade
4) Small folding saw
Optional items depending on activities and seasonal use:
1) Machete or large knife
2) Small "bushcraft" knife for wood carving projects
ROCK6
SAK + RAT 3
I know I really don't need my machete and will be taking it off my BOB rig in exchange for a new handsaw.
Most anyone should be able to do what there is to be done with the blade there is in a good multitool for delicate cutting, a 6 to 7 inch fixed blade for larger game cleaning, light chopping, and building outdoor shelter work and a lightweight folding handsaw for heavier wood work.
I'll still always have my pocket knife on me too though as it's always with me and the first and fastest knife to get to most of the time.
For hiking and camping I pack based on what I plan to do.

Next outing will see me with my old swiss army knife and a 4 inch fixedblade. No big saw, no hatchet, no ax, no big fixed blade.

For what I do in the woods I don't need much.

It has only taken me a decade and a half to change my outlook from the days of boy scouts when we would find stuff to do with our big fixed blades.

For a bob, that can vary since tougher tools might be useful.

Originally Posted By protus:
90% of what you do in camp can be done with amulti tool or good pocket knife/folder.

camp knives
3-5 inch fixed blades. are good for chores, and field dressing.

larger knives- 5-8inch fixed blades are good for......add'd weight to your gear
well they are good for when you cant hump a saw or axe, and want a "one" tool kit. they arent good at being an axe, and arent good for fine work but they do it all.....

my kit is nomrally

multitool
folder
bk7- which doesnt get much use unless i leave the 1st two at home,....
I have a very similar philosophy. I could easily suffice with a multi-tool (Powerlock), SAK (Camper), and a 4" fixed blade (Ontario Spec-101). For big wood, I carry a pocket chainsaw. I remember in the past when I used to get by with an Sak, then it was a 3" folder and a 1.75" folder (guess which one saw more use), then a neck knife and the 1.75" folder (guess which one got used more).
That said, I frequently will carry a couple knives more than I need for a couple reasons- 1. I like 'em.
2. If I carry more than I need I specialize
3. back-ups
For survival situations I would want a pocket knife, a multi-tool, a machete, and a saw.

The first item to go would be the pocket knife since it would be duplicated by the multi-tool.

If I could have only two items, I would choose the multi-tool and the saw.
i seriously dont think a saw or a ax is necessary for short term survival..


my reason for this are as followed........Green wood doesnt burn well if at all.. whats the point of cutting a tree down if it wont burn? another reason is if the wood is too long you can burn it in half over your fire. or if its small enough put one end into the Y of a tree and push or pull till it breaks


I think alot people here just seem to look at the time you could be relying on only what you have in your BOB in a shtf sit differently.
Also the difference between what you might need for a camping trip compared to setting up a BOB for longer term survival.
When your going back home in a couple or few days and know your not going to be relying on what you packed for a long time, your needs are different.

A BOB to me though is a survival pack setup for uncontrollably being separated from your comfy home and packing stuff that could help you get by for weeks, months or even longer if it turns out that way.
That means even probably making temp shelters at some point beyond just a tent or quick hotch.
That's where a good axe, saw and/or the right knives comes in. Not just for getting firewood, cleaning game and cutting rope or 550 cord, but cutting heavier branches, logs and vines and shaping wood for structures, traps and other possibilities.
I know I just don't like to take as much for granted myself and would rather have better tools on my BOB than not.
We all have to decide how hard we want to make it on ourselves and how much weight we are willing to carry.

I will be carrying a little folder with plastic handle, a leatherman Surge, and possibly a LTC kukri that I can't seem to take off my gear.


First, I will not be carrying any knife as a fighting knife. The kukri would excell at that, but I never plan on getting close enough to hack at a bad guy.

Second, my little Kershaw folder with plastic handle is plenty enough to skin game and I can dunk it in a stream to clean it off. It weighs almost nothing and is really handy for all kinds of little tasks.

Third, my Leatherman is just way too useful to leave at home. I have completely used up several leathermans in the last 10 years. It opens with only one hand and just as quick as a regular tactical folder (of which I have many).

I do carry a gerber folding saw. It works. I have a similar one that I use for trail making on my 4 wheeler. 4" thick branches are very quick work.



I personally do not hunt stuff I have to skin alot. I do not believe that my little folder is ideal for skinning but it will do for a couple of weeks while I am trying to get somewhere safe.
k bar
I find a SG Mora and a small handsaw cover all my needs.
I like this one for general pourpose use and a small case camp knife in the pocket.
Folder.....Sebenza
Fixed.....Ka-Bar USMC
Multi Tool....Leatherman Wave
Folding Saw.....Fiskars
Hatchet or Axe.........Gransfors Bruks

End of thread.

Folder-SAK Farmer or my new guilty pleasure the skeletool cx
Fixed-Koster Bushcraft
Axe/Machete-Wetterlings or tramontina

I say a good pocket knife and a good fixed blade, like 5-6in. If you have the fixed blade, you can make do without the hatchet.
Hatchets are utterly useless to me... too small to do anything useful, too heavy to justify carrying around. A smallish (and very sharp) axe doesn't weigh much more and is infinitely more useful. A small saw and a multitool/pocketknife will do anything I need to do if I can't carry a real axe. A regular sized folding knife is a necessity of life (I suppose a small fixed blade would be just as useful, I just prefer a locking folder).

I feel the same way about bayonets, machetes, kukhris, tomahawks, swords, doublebladed axes, polearms, and big fixed blade knives as well. They have a purpose (I guess), just none that I will ever take advantage of, therefore I won't carry them.
Benchmade Mini Rukus (EDC)
Leatherman Charge Ti (EDC)
Gerber LMF
I carry a CRKT Cruiser daily and have a Ka-Bar Warthog for my field knife. I also keep a Leatherman Kick in my gear bag.
I would suggest a pocketknife, a larger folding knife or fixed blade (probably fixed), a multitool, and either an axe or saw of some kind. (Maybe even a stash of two or three of each if you think the TEOTWAWKI is imminent)
That may seem like overkill, but if it is truly SHTF or TEOTWAWKI, it is all you have, and it will be all you ever get. Once it corrodes, breaks or is lost, it is gone and there is no replacement.
It is all about increasing your options, not limiting them. (At least until the reality of carrying all that hits you, then you need to decide for yourself as everyone's situation is different)
When I first started doing BoB trials, I went through carrying multiple specialty knives to just one.
I bought the SOG nylon sheath and slapped a multitool into the pouch.
Though a nice folder does most tasks, it sure becomes a holy mess when you clean fish or game and very time consuming to clean.
I don't carry axes or saws period. Its just too much weight for how little actual usefulness you get out of them. I either break wood with my foot or feed it end to end into the fire.
Tj