Mauser standard model infomation
I have a Mauser that Id like some info. on. Its has the Mauser logo stamped on the Receiver, also on the side its stamped Standard Modell. Around the serial # is just a bunch of proof marks. Its in really nice shape, non matching numbers. Any info about this rifle would be appreciated and approx. value and est. mfg dates of these guns.

Thanks
Any pictures of your or related weapons would really help out here, but it sounds like its a commercial model
Standard Modell

In 1933 Mauser Werke in Oberndorf began producing a design to compete with Belgian and Czech Mauser export rifles. It was essentially a Kar98b with shorter 600mm (24") barrel. It could be had with horizontal bolt handle as a short rifle, or turned down bolt handle as a carbine. It was marked on the rail "Standard Modell of 1933". This design was also made for domestic use by the DRP, the German Post Office, and many of this pattern went to paramilitary formations such as the SA, the SS and other NSDAP (NAZI Party) units.

In 1934 a new variation, the "Standard Modell of 1934" appeared lacking finger grooves in the forestock which dated back to the Kar.98b design. This design was adopted by the "Wehrmact" as the Kar.98k and was made by Mauser, Sauer &Sohn and later others. A receiver ring code was adopted to indicate manufacturer and date of fabrication. The design was not officially adopted until June 21, 1935. ERMA, Berlin Luebecker Werke, and the old DWM factory called Berlin Borsigwalde, now under Mauser Werke management were now in production of this design.

Highly collectable, if all matching, just as all K98's that aren't RC are.
Thanks for the info. heres a pic of the gun, its not all matching numbers but its in really nice shape, wondering value of a non matching gun.
Thanks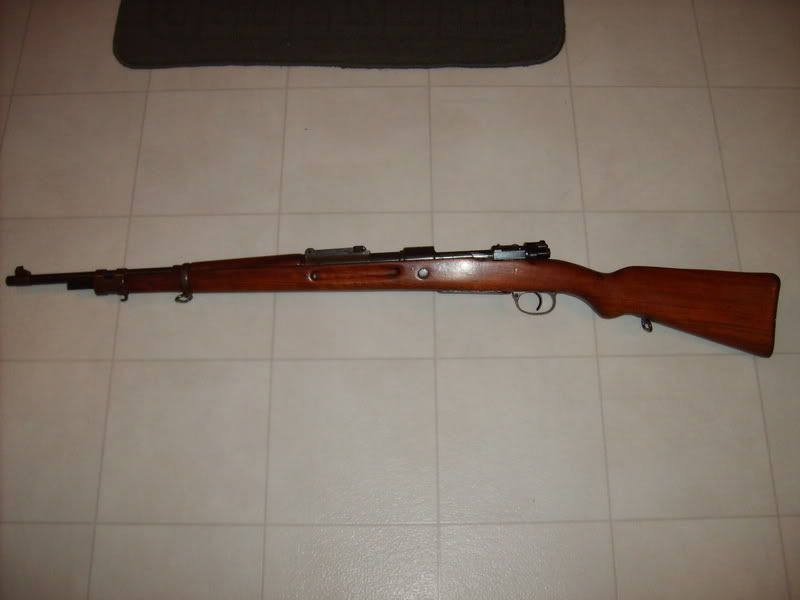 Original finish?

Does the gun match itself except for the bolt?

I'm thinking $500 or so for that is not out of the ballpark. It's a darn side nicer than the RC K98's.


Yes everthing else matchs except the bolt, it has had a coat of some type of high gloss finish, but thats it, it hasnt been sanded on, I lightly buffed the high gloss off of it, and it looks to be the original finish, I cant find any import marks. I appreciate your input.

Thanks Aug223